A garage door that's not working right is more than an inconvenience—it's a hazard. The moment you notice a problem with any part of your door, contact us in Newberg, OR for assistance. The Door Man & Son is standing by to resolve whatever issues are holding your door back.
Our decades of experience with residential and commercial garage door repair give us insight into just about any type of door and we can troubleshoot things like overhead door repair fast. We work hard to ensure your door looks great, functions safely and remains in good condition.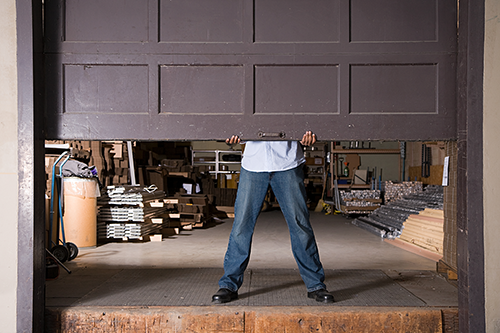 Garage Door Repairs
Your garage door is one big mechanical system, which means like any other mechanical system, it's going to need repairs over time. Small issues will usually arise to make you aware of the need for overhead door repair in Newberg, Yamill County, Dundee, Wilsonville, or Portland, OR—things like friction noises, jarring movements from your door, issues with alignment or plain old inoperability.
To restore the function of your door and to prevent future, bigger issues, give us a call for residential and commercial garage door repair. We're equipped to address every part of your garage door and can make most repairs quickly. Whether we're replacing a broken torsion spring or realigning your garage door tracks, count on us to safely restore the integrity of your door.
Counterbalance repair
Door repairs
Motor repair
Sensor calibration
Torsion springs
Track repairs
Remote Replacements
If you keep pressing your garage door remote and nothing happens, give us a call! We'll provide you with a newly calibrated garage door opener that gives you the control you need. We can also provide replacement remotes for lost units. We have garage door openers on-hand for most major garage door brands.
Keep Your Door Running Smoothly
Problems with your garage door or new installations can't wait for a resolution—they need one now! Contact The Door Man & Son today at 503-538-3359 and let us put our skills to work for you. We'll identify the problem, provide the solution and make sure everything is working right. We put your safety and the integrity of your garage door repairs above all else!