Garage Door Company in Newberg, OR
The Door Man & Son provides overhead door services to residential and commercial customers throughout Newberg, Yamhill County, Dundee, Wilsonville, McMinnville, and Portland, OR. Customers feel confident calling us for repairs, replacements and installations because, for more than 45 years, we've distinguished ourselves with quality workmanship and friendly service. Call us today to schedule a garage door appointment.
Your Local Expert for Residential and Commercial Overhead Doors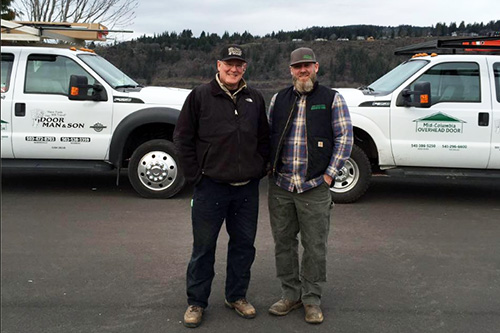 A garage is a major convenience for homeowners, just like overhead doors are essential for commercial facilities. When these mechanical systems stop working or become damaged, however, they become more of an inconvenience than anything else! If you're facing residential or commercial garage door repair in Newberg, OR, let our garage door company take care of things for you.
We proudly provide a full range of overhead door company services, ensuring your door is in good condition and in safe, reliable mechanical operation. Our scope of abilities includes repairs for most major brands, as well as installations and replacement components. Whether your door is stuck and won't open or you just need a new garage door opener in Newberg, OR, we'll be glad to help. We take the time to understand your needs and the condition of your door, so we can provide tailored service that resolves problems right the first time.
For new doors, look to us for complete help. We'll introduce you to options from some of the most reliable brands. We can help you establish a budget, choose the right materials, pick your door type and aesthetic, and make sure you're making a confident choice. And, as soon as you do, we'll make sure it's installed to perfection and working flawlessly.
Contact The Door Man & Son with all your overhead door needs and see why we continue to be a trusted provider of products and services. We've never met a door we couldn't fix or a customer we couldn't satisfy! Put our skills to the test next time you need garage door services.
We've got more than 45 years of experience as a garage door company, spanning repairs and installations of both residential and commercial overhead doors.
We're a locally-owned, family-operated overhead door company with three generations behind us. Trust us to deliver superior service, because our business is built on it.
Count on us to bring you only the best brand-name products, from reputable manufacturers such as LiftMaster, Wayne Dalton, Chamberlain and more.
We're affiliated with the International Door Association (IDA) and have our Fire Door Certification, as well as a general contractor license.
We have a passion for the work we do! Our commitment is complete customer satisfaction and nothing less.
Superior Garage Door Service
For a garage door company that keeps your overhead door moving smoothly and operating safely, choose The Door Man & Son. Contact us today for a free estimate on repairs or an installation.
An overhead door company proudly serving the following areas:
Carlton, OR
Chehalem, OR
Dundee, OR
McMinnville, OR
Middleton, OR
Newberg, OR
Sheridan, OR
Sherwood, OR
Southwest Washington County, OR
St. Paul, OR
Sunnycrest, OR
Tigard, OR
Willamina, OR
Wilsonville, OR
Yamhill County, OR
Yamhill, OR